Rain Gauges
The WCCOG partnered with the Maine Department of Agriculture, Conservation, and Forestry (DACF) via a Coastal Communities Grant to install 11 new rain gauges throughout Washington County. The addition of new rain gauges expands rainfall data collection capacity and help the Department of Marine Resources (DMR) more accurately determine when flats need to be closed and when they can be kept open for harvesting. Better data helps the DMR more effectively administer the shellfish sanitation program, provide access to safer shellfish resources, and minimize economic loss due to unnecessary closures.
Why Install New Rain Gauges?
A lot of rain in a relatively short period of time can transport non-point source pollution through storm water runoff, negatively affecting the health of bivalve shellfish. During a heavy rainfall event of two inches (2") or more of rain in 24 hours or less, it may be necessary for the DMR to enact emergency closures of shellfish harvesting areas. Click here to learn more about this process. The additional rainfall data helps pinpoint areas actually affected by non-point source pollution, and helps shellfish managers more effectively manage resources.
While most Maine counties have enough coastal online gauges, Washington County lacks adequate coverage in some areas. For a map of previously-existing and NEW rain gauge locations, click here. Potential locations have high shellfish resources with little to no rain gauge coverage. The new online rain gauges will add coverage where there is none and redundancy in the event of equipment failure.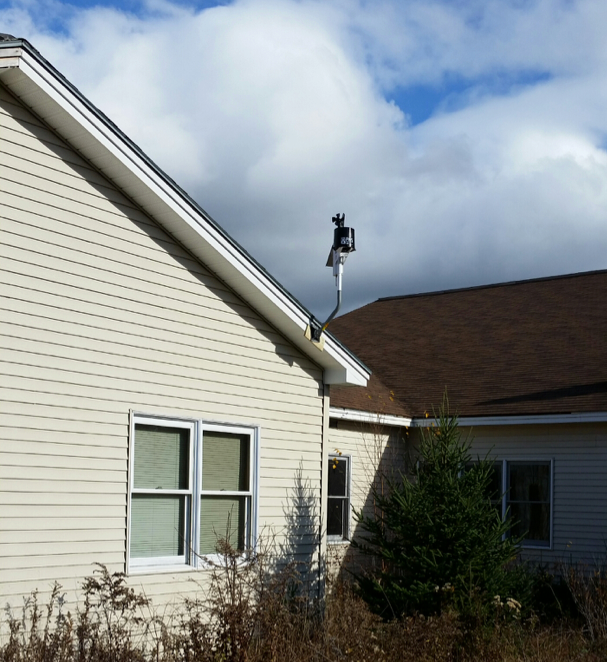 Who Will Maintain Equipment, and Gather New Data?

Maine DMR staff installed the new gauges; towns are responsible for physical maintenance and reporting any outages to the DMR. The rain gauges provide real-time rainfall data through Internet service provided at the host site. DMR staff members view each weather-reporting station online through the Weather Underground website (wunderground.com) in order to determine rainfall amounts. DMR also has a pollution reporting hotline and automated website that rain gauge monitoring volunteers use to report rainfall totals. The same data available to the DMR is also available to the public via Weather Underground .

The DMR partnered on a similar project in 2008 with the Casco Bay Estuary Partnership to install online gauges in Western Maine. These gauges allowed the DMR to convert restricted harvest areas into rainfall conditional areas in nine river systems with significant clam or aquaculture resource.

Outreach and Education

Through this project, the WCCOG partnered with municipalities, organizations, and residents to engage and train the public in the tools used to protect public health near areas of high shellfish resources, and to describe the economic value of shellfish to Washington County's economy. For a list of partner sites and organizations, click here.

The WCCOG web site - Clams, Economic Vitality and Land Use - includes historical landings data for the region and each town; a landowner toolbox (farm operations, overboard discharges, septic systems, community culture); a municipal tool box (land use in buffer areas, septic systems, sanitary surveys, stormwater runoff, shellfish management); education and services; mapping of shellfish resources; and an in-depth list of information, assistance and funding.

WCCOG prepared an informational presentation to guide discussions with Shellfish Committees. Click here to view a PDF of the presentation.

Program Funding

The Coastal Communities Grant is made possible by the Maine Coastal Program, administered by the DACF. The Maine Coastal Program is a partnership among local, regional, and state agencies that manages Maine's coastal resources for the public benefit. The program addresses the effects of land use activity on water quality; improves coastal public access; and ensures sustainable, vibrant coastal communities. The Maine Coastal Program distributes Federal funds matched by state and local sources to enable on-the-ground projects that benefit Maine's coastal communities.

The DACF granted $27,000 for the Washington County rain gauges and shellfish closure outreach program. Local match includes DMR staff; Municipal Shellfish Committees volunteer time; regular site location management; and yearly fees paid by shellfish committees and site owners.

For more information please contact Crystal Hitchings, WCCOG, at 207-546-3600.

This website was prepared by Washington County Council of Governments under award CZM #NA15NOS4190208 to the Maine Coastal Program from the National Oceanic and Atmospheric Administration, U.S. Department of Commerce. The statements, findings, conclusions, and recommendations are those of the author(s) and do not necessarily reflect the views of the National Oceanic and Atmospheric Administration or the Department of Commerce.

0